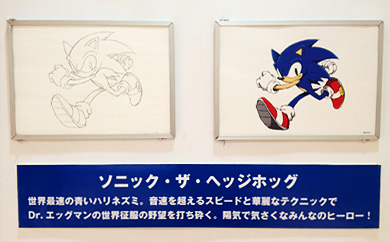 With the closure of the Odaiba-based SEGA JOYPOLIS last month, many fans making a pilgrimage to Tokyo might be feel a pang of disappointment in that they won't be able to visit what was the last remaining bastion of SEGA theme parks.
All is not lost however, as it appears JOYPOLIS NANO, a smaller attraction has opened up nearby. According to the article, JOYPOLIS NANO is more akin to a museum, displaying artwork old and new, official and fan created. Along side this, the JOYPOLIS store has moved in next door, so hungry merch-hogs will still be able to get their fix of anniversary goodies.
TSSZ News are also reporting that the Night of the Werehog 3D animation, which had been showing at the JOYPOLIS cinema for the past few years, is now touring Japanese screens.
Although long due a refurbishment, many fans will be sad to see the little reminders of the early days of Sonic, that were present in Joypolis, likely disappear with renovations.
If you've never visited the park, you can check out Dreadknux's Tourist Guide to Joypolis from November or take a look at my Video Tour of Joypolis from 2010.