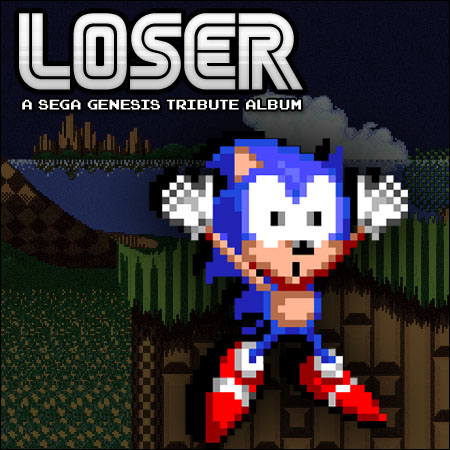 Hey, do you not want to be a loser?  Then, check this shit out.  Indigo Rush tipped us on a sweet Sega Genesis tribute album, called "LOSER," and I've been listening to it for the past few hours.  I can officially say that it's badass and you'll like it.
The album contains an amazing number of tracks, 39 total, of classic Genesis tunes.  A majority of the tracks are Sonic tunes, but Phantasy Star, Ecco, Streets of Rage, Shinobi, Golden Axe, Altered Beast, and more are remixed for your listening pleasure, too.  Man, there's even an awesome Lemmings remix!
There are a few duds on the album that suffer from poor instrumentation, execution, "playing it safe," or all of the above, but most of the songs are quality remixes.  If you want to just skip to the Sonic songs, the second-best Sonic is track #23, Casino Night Live.  It's the classic Casino Night melody played by a small jazz combo with some great solos and improvisation.  As indicated by the word "live," it's also performed by real instruments, so the lead trumpet doesn't sound like a bunch of FL Studio turd.  The combo is tight, clean, and extremely talented.
While that song is pretty wicked, I did say that it was "second best." Track 34, simply called "Sonic," is the best song on the album.  This near 8-minute, not safe for work epic features many Sonic songs back-to-back.  The catch here is that there are two guys rapping over it and it's the best thing that you will ever listen to this year. I'm dead serious. I laughed for about an hour, showed it to all my friends, laughed some more, and made this post. If you don't have time to check out the entire album, do yourself a favor and at least listen to track 34.
Visit the official site of "LOSER: A Sega Genesis Tribute Album" and download it right now!