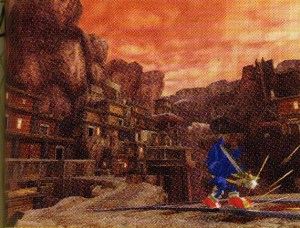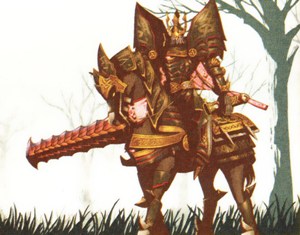 Nintendo fan site Nintendo Everything have managed to nab some new screens and artwork of upcoming Nintendo Wii game Sonic and the Black Knight. The images look a little grainy as if they've been scanned from a magazine but no magazine is mentioned in the sites post. Most of the screens we've already seen but a couple are new and there's also some artwork of the big bad wolf Black Knight riding horse-back, we're yet to find out the horse's name though but for now I'll call him Dreadagus since he's dark and he looks as bad ass as Dreadknux Pegasus came to mind.
Another screenshot of Sonic outside of a dark town with a fiery sky looks like possible artwork but Sonic's model looks like the in-game model so I'll let you be the judge on wether that is art or in-game screenshot.
You can check out all of the images here
UPDATE: I have been informed that these images are from the latest issue of Nintendo Power, thanks to SSMB Member: Hero of legend
Discuss over at the SSMB topic.