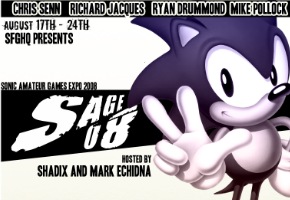 IT'S FINALLY HERE! THE 2008 SONIC AMATEUR GAMES EXPO IS HERE!
We invite any and all Sonic fans to come to the 13th iteration of this long-standing, Sonic community tradition, hosted by one of the community's original sites, Sonic Fan Games HQ. Play the latest and greatest fan projects all in one place for one glorious week of celebrating not only Sonic the Hedgehog, but our community as well.
Please, hop right into the chat room, look at the schedule, and just read everything there is to read about the show! It's going to be great!
A word of warning about certain booths: Sunday is usually the slowest day for the booths section, as dead links will be weeded out and some people will be putting up their demos throughout the day, due to time zone differences. Bear with that fact, because it happens every year. Come Monday, everybody should be ready to roll.
Be sure to check here for TSS Staff's input on all the fangaming action!
With that said…