If getting SONIC the hedgehog on Xbox 360 wasn't good enough, EBgames and are giving you an adorable little Sonic the hedgehog plushie to go with it! And he's completely free of charge!
If you purchase the game on their website (The link is in the "MEDIA LINKS" box at the bottom of this page) at the price of $59.99, you will get this cute little fellow free with your game (Obviously subject to availiability).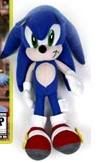 A similar offer does not appear to be on the cards yet for european buyers. The game is due out in the USA on the 14th of November 2006. Thanks to Nazoshadow on the SSMB for the tip off!